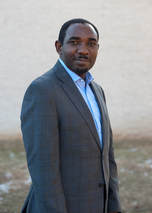 "
I'm very excited to be a part of this strong team that is touching the lives of pregnant women, newborns, children, adolescents, youth, and health workers in underserved communities around the world especially in sub-Saharan Africa.
Growing up on the shores of Lake Tanganyika in Kigoma, Tanzania, I saw many pregnant mothers, babies, and children suffering from preventable diseases as a result of poverty, harmful cultural practices and low literacy levels. The situation was worsened by the growing number of refugees who fled from neighboring Democratic Republic of Congo and Burundi. Public services in Kigoma such as health centers and schools did not have the capacity to handle the increased population. With limited medical supplies and equipment in the clinics, health workers did their best to provide services. For those who could not be treated, they were referred to
Maweni R
egional hospital and they would die on the way because the boat took at least five hours to arrive at the hospital. Even though I am not living in Kigoma, with me I still carry those inhumane experiences I witnessed and I vowed to champion and support programs that will lessen the burden of disease, disability, and death for mothers, children, and youth in underserved communities. I believe Childbirth Survival International (CSI) is the perfect organization that fits in my vision of helping many more mothers and children beyond the borders of Kigoma. By joining the CSI Board, I am confident that I will be able to work with the amazing founders (Stella Mpanda and Tausi Suedi) and selfless team of volunteers to serve the underserved and contribute to advance CSI's mission to make a difference in the lives of women, children, and youth." –Amri M. Ngoye.

​Amri M. Ngoye
​CEO, Alpha Home Care Services, LLC, Virginia
​Vice-President, Tanzania Adventists in the US South Atlantic Chapter
​MEDLIFE Member, University of Maryland College Park

​For more information about CSI, visit http://childbirthsurvivalinternational.org.