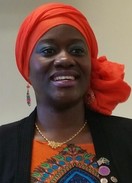 Happy International Women's Day!
Women make up the majority of the world's population yet are the largest untapped potential. When a woman is educated, healthy, informed, has access to opportunities, and support, it is not only her gain but the gain of everyone within her network, starting with her family.
800 women die everyday due to pregnancy or childbirth related preventable and/or treatable causes; 62 million school age girls are not in school; each year at least 50,000 women's lives are affected by obstetric fistula; everyday an estimated 1,000 girls get infected with HIV.
The statistics are appalling and unacceptable!
In order to accelerate gender parity and achieve the Sustainable Development Goals by 2030 commitment, resources, and concerted efforts need to be effectively deployed at all fronts to make a difference for women and girls especially in rural areas.
To achieve gender parity is possible. Education is a necessity and opportunities to learn must be made available. If what we seek is a great world for our children and grandchildren, investing in women and girls paves the way to achieving that vision - a big piece of the puzzle we have been missing for quite some time. We now know what it takes is raising awareness about the barriers, means of overcoming them and how to translate ideas into action. We have the plan, so, let's do it!
View my video:
International Women's Day message
.