"I'm a Girl with dreams & goals...Let Me Be"

CSI's Girl Talk, Girl Power program educates and empowers the girl child in rural and urban areas primarily addressing the "taboo" topics namely menstruation, menstrual hygiene, teenage pregnancies, sexual and reproductive health. Many girls are unprepared and unaware of body changes, what it means, and how they should take care of themselves and avoid unintended pregnancies, HIV/AIDS, STIs, and dropping out of school. The girl child has a lot of potential if only she can be accepted, given the opportunity and safe space to survive and thrive.
​ Read 2017 Menstrual Hygiene Blog

​As every country's pace is quickly changing to keep up with competing markets and the world is becoming a global village, now more than ever is the best time to invest in the girl child.

Letting girls learn, acquiring important life-skills, delaying marriage up until when they are ready, ending harmful cultural practices such as female genital mutilation and son preference, and engaging them in global matters such as climate change, environmental health, peace and conflict resolution, and business opportunities is the best investment for the girl and generations to come. More and more women are entering spaces that were once viewed as "men only spaces", and the adolescent girl child wherever she may be, her rights should not be denied or violated, just because she's a girl!

All girls need support, guidance, and resources to learn to love themselves, be independent and take care of themselves. After phases of childhood immunizations for those who get them, girls do not go back to a health facility unless they are pregnant or have had an unsafe abortion. These gaps in health services have created major challenges for many girls in the developing world.

Read more about

PEPFAR's DREAMS partnership for adolescent girls and young women in 10 sub-Saharan African countries.
---
Edu-empower sessions


Skilled and trained team members hold interactive sessions with the girls in the presence of a female teacher.Various in-class illustrations such as how to use a sanitary pad are part of the education sessions conducted. Girls are always eager to learn, they feel informed and empowered because of CSI's program.

Girls need pads to go & stay in school


Make a small donation and help a girl go to school, stay in school, and have the opportunity to get an education by having sanitary pads. CSI gives sanitary pads for free.
---
CSI's Big Ask for Adolescent Girls - Reusable Sanitary Pads
Menstruation and proper menstrual hygiene has everything to do with girls' education. It is not hard to recognize the inadequate sanitation and hygiene systems in many of the communities we work in. Communities and societies need to be sensitized to the challenges adolescent girls face because of the long-term impact for the nation due to high rates of girls failing to complete primary and/or secondary education.

While CSI donates disposable sanitary pads, the community and staff recognizes the added environmental burdens of disposable sanitary pads in communities that lack sanitation systems and has partnered with AFRIPads to distribute reusable sanitary pads that girls can use for at least twelve months.

​Since 2014, more than 700 adolescent girls have benefited from CSI's Girl Talk, Girl Power program. CSI efforts contribute to local, national, and global goals to ensure girls learn and have access to opportunities to thrive and live to their full potential.
---
CSI's Success Story for Girls
Water and washing facilities
Through our work in different underserved communities in Tanzania and Uganda, CSI team has found giving adolescent girls sanitary pads is only part of the solution to a long-term challenge of ensuring girls go to school and stay to advance.

In Uganda, one of the schools we worked with expressed an immediate need. Lack of water and safe washing facilities contributed to girls skipping school and eventually dropping out. CSI mobilized resources, partners, and community members to respond to the head teacher's request and in less than a year, the school now has water and girls are able to clean up and change during their monthly periods. ​

​Success! #LetGirlsLearn #MenstruationMatters

The head teacher at Seguku Primary in Uganda requests CSI to come back and build washing facilities for their girls. Recorded November 2016.

---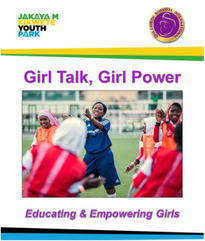 ---