"Investing in adolescent girls is our priority" ~ CSI Founders
Tausi Suedi, CSI Cofounder & CEO highlights importance of International Day of the Girl Child, challenges, and opportunities. Voice of America, Washington, DC. Tuesday, October 10, 2017.
---
CSI's Girl Talk, Girl Power program has educated and empowered more than 2,500 adolescent girls in rural and urban areas primarily addressing the "taboo" topics namely menstruation, menstrual hygiene, teenage pregnancies, sexual and reproductive health. Many girls are unprepared and unaware of body changes, what it means, and how they should take care of themselves and avoid unintended pregnancies, HIV/AIDS, STIs, and dropping out of school. The girl child has a lot of potential if only she can be accepted, given the opportunity and safe space to survive and thrive.
​ Read 2017 Menstrual Hygiene Blog

​As every country's pace is quickly changing to keep up with competing markets and the world is becoming a global village, now more than ever is the best time to invest in the girl child.

Letting girls learn, acquiring important life-skills, delaying marriage up until when they are ready, ending harmful cultural practices such as female genital mutilation and son preference, and engaging them in global matters such as climate change, environmental health, peace and conflict resolution, and business opportunities is the best investment for the girl and generations to come. More and more women are entering spaces that were once viewed as "men only spaces", and the adolescent girl child wherever she may be, her rights should not be denied or violated, just because she's a girl!

All girls need support, guidance, and resources to learn to love themselves, be independent and take care of themselves. After phases of childhood immunizations for those who get them, girls do not go back to a health facility unless they are pregnant or have had an unsafe abortion. These gaps in health services have created major challenges for many girls in the developing world.

Read more about

PEPFAR's DREAMS partnership for adolescent girls and young women in 10 sub-Saharan African countries.
---
Girl Talk, Girl Power sessions

Skilled and trained team members hold interactive sessions with the girls in the presence of a female teacher. Various in-class illustrations such as how to use a sanitary pad and role playing are part of the edu-empower sessions conducted. Girls are always eager to learn, they feel informed and empowered because of CSI's Girl Talk, Girl Power program.

Girls need pads to go & stay in school

Make a small donation and help a girl go to school, stay in school, and have the opportunity to get an education by having sanitary pads. CSI gives sanitary pads for free.
---
CSI's Success Story for Girls
A Second Chance
Many young girls especially in rural areas are denied the opportunity to learn. Their dreams are silenced with traditional beliefs of what and how a girl child should live--stay home and help her mother, reach a certain age, get married to a man several years older than her, have children, and watch her life turn into what nothing her childhood dreams were. There are girls who have tried to achieve their dreams but with no family support, their dreams are also suspended. With CSI's new youth program,
YES
, girls are getting a second chance to make their dreams come true. Through generous donors, CSI obtained brand new sewing machines for three young women and they are all in school acquiring skills in sewing, financial literacy, leadership, and community service. ​
Success! #LetGirlsLearn #CSIImpactingLives #GirlTalkGirlPower
---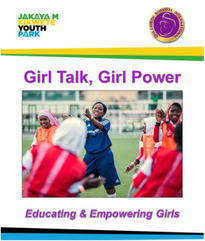 ---