Hope for Daniella and Darren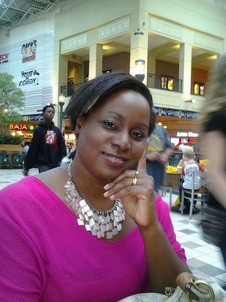 Background:
In 2014, Joan Katatumba, Plant Director of
PepsiCo
and a strong supporter of Childbirth Survival International travelled from Minnesota to her home country Uganda for vacation and was touched by two little gentle souls - Daniella and Darren. In line with CSI activity of giving away clothes to children 0-5 years but most importantly what her father taught her growing up, Joan reached out to her coworkers, church and community in Minnesota to gather clothes for the poor children in her village for charity begins at home. True to her initial mission, she gave away clothes to children who were excited to receive clothes from America. But there was something particularly special about Daniella (5 years old) and Darren (3 years old) -
she was yet and set to find out!
After giving away all the clothes to more than 50 children, what was meant to be a vacation turned out into getting more information about the brother-sister duo and embarking on a mission to bring hope in their lives and get CSI and everyone to help make a difference. Joan returned to Minnesota, with a mission to next time return to Uganda with more than just clothes for Daniella and Darren but a guaranteed gift of 13 years of education for both of them in one of the best schools in the region.
---
---
Why Daniella and Darren
HIV/AIDS has turned Daniella and Darren's world into a big maze of uncertainty. Their father died two years ago and their mother is hanging on to dear life. They barely have enough to live a normal life and the below minimum earnings of $15 a month their mother makes is used to buy her medications. Both children are HIV negative. After talking with family and community members, Joan's mission to make a difference and give back became clearer - to put the kids in a quality boarding school from primary to high school (13 years of education), so they can grow in a safe and secure environment and be well-prepared for the world. Education is the best gift to give a child and that's Joan's mission with support from family, friends, coworkers, and Childbirth Survival International (CSI).

The goal is to raise $15,000 to help Daniella and Darren go to school, where they will receive the care they need and be in an environment, which will foster their growth, development, and social learning skills.

Alternatively, you can mail a check to:

Childbirth Survival International (CSI)
P.O. Box 32154
Baltimore, MD 21282
Re: Hope for Daniella and Darren

---
Hope for Daniella and Darren
Your generosity to ensure Daniella and Darren who are 8,000 miles away go to school and get an education is the beginning to meeting them. You will receive progress notes, interact with them via Skype or regular mail, and as they get older they will learn of this amazing campaign, of which you are a part of, that has helped them get to where they will be headed. Life is a journey and let us help Daniella and Darren make that journey to success, achievement, and unknown possibilities.