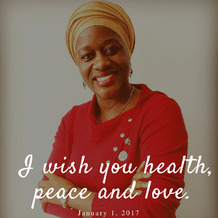 ​
Health. Peace. Love
- wishes for my family, friends and humanity; with health being number one. Whenever I speak with my mother-in-law and share with her the different projects I am doing, she always reminds me, "
as long as you have good health, everything else is possible
" and I agree. Health is the ultimate wealth through which great achievements and discoveries stem from for individuals, societies and nations. While good health is desired by everyone, globally millions are marginalized particularly women, children and youth especially in developing countries limiting their timely access to quality health services and information.
​
As health scientists and global health professionals adjust to leadership transitions and tackle re-emerging infectious diseases such as Zika virus and other public health priorities, the momentum to end preventable/treatable causes of maternal-newborn-child mortality and morbidity can lose traction as resources are rechanneled and health systems become overwhelmed. Working in the international health arena for over a decade, it is impressive to see the great strides made in improving access to health services, at the same time it's not hard to recognize more work needs to be done to reach the unreached with basic health services and information -
the essence of Childbirth Survival International
and
CSI's Top Five Priorities.
The painful cry of that mother who lost her child to diarrhea - a preventable and treatable disease, still rings in my ears; I carry with me the look of more than 200 adolescent girls eager to learn and understand menstruation, menstrual hygiene, and be inspired to aspire; the grandmother performing kangaroo mother care (skin-to-skin) to her premature grandchild as she mourns the death of her daughter who died giving birth; the three pregnant women who squeezed my arm with barely any energy left because they were tired of giving birth and desperately needed family planning; the midwives who said thank you repeatedly for donated childbirth kits to pregnant women; the overwhelming turnout when we did our first free community cervical cancer screening and the demand to return –
we will on World Cancer Day
; the toll of HIV/AIDS on families because stigma overpowered their will to take timely action. These experiences and more, humanize health and amplify the human need to strengthen and extend basic health services in several underserved communities especially in rural areas. Like a thriving forest, it is necessary to intentionally work with communities as key partners to create thriving societies and nations.
In 2017,
Childbirth Survival International
will undoubtedly continue serving and impacting lives in Tanzania and Uganda by applying proven low-cost low-tech interventions. We also hope to get wheels in motion in Nigeria and South Africa focusing on pregnant women and young college females respectively. In collaboration with local and international partners, CSI programs will hone on successes of previous years to maximize impact from the community to the government level through advocacy, implementation, outreach and communication. CSI is headed in the right direction of increasing access to quality health services and information –
Impact and Effectiveness, Reaching the Unreached
.
To my family, friends and humanity, I would like to wish upon you a wealth of good health.
Tausi Suedi
CSI Founder and CEO
​​
@TausiSuedi