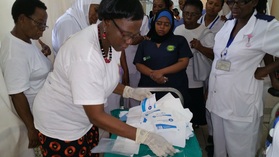 "I am currently leading and mentoring our country's next generation of nurses and midwives through CSI. We are having a project at the lake region, Mara and also in Biharamulo, Kegera. We are working towards improving maternal mortality at the grass root level by educating mothers because that is where the problem is so we link them with health centers.
It happens that hospitals wait for patients to come but research has shown that over 50 percent of pregnant women deliver at home," she speaks, and continues, "This is the 21st century, it is not that they don't understand that they are supposed to go to the hospital, they do but there are a number of reasons that hinder them to do so like tradition for instance."
However, despite all the enjoyment she had while teaching others and as she continues doing so, one thing that she is proud of is the fact that her teachings impart knowledge and professionalism. She noted that there has been an issue of professionalism among health workers to the point that someone sees a nurse and asks him\herself is this really a nurse?
"I am not sure if it's a global problem or just a problem here in Tanzanian but my experience shows that there is a problem somewhere because when I say professionalism I mean ethical conduct; the behaviour or attitude.
Dealing with another human being, one needs to show respect and really care.
If you don't have those you cannot call yourself a qualified nurse or a doctor," narrates Mpanda.
Read full article here.