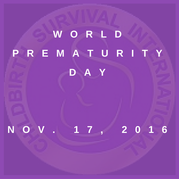 Have you ever asked yourself what the leading cause of death is in children under five years old? Did you think pneumonia? malaria? Though pneumonia and malaria are among the leading causes of death in children aged 0-5 years, reports show premature birth and its subsequent complications has ranked as the number one cause of death. In 2015, over one million children aged 0-4years died as a result of prematurity and its related complications.
Today, on World Prematurity Day, we acknowledge the significant number of young lives lost each year due to premature birth, and increase more awareness to scale up efforts and commitment from leaders to ensure services for premature babies are prioritized. Many of them can be saved but due to lack of equipment, medicines, access, specialists in some areas, millions die annually. Premature birth is defined as birth prior to the 37th week of pregnancy and with quality prenatal/antenatal care can be managed. Routine prenatal visits and the proper monitoring of the health of mothers and babies provides the opportunity for health care workers to detect maternal health risks, such as gestational diabetes and high blood pressure (pre-eclampsia and eclampsia). These risks can—if undetected—lead to prematurity, the underdevelopment of major organs, and the inability of the infant to thrive outside of the womb. Maternal smoking and substance abuse are also correlated with preterm birth.
On November 7th, ten days before World Prematurity Day, the World Health Organization (WHO) updated their
recommendation on the number of prenatal care visits
suggested for expecting mothers from four visits to eight, in hopes that more frequent prenatal visits of higher quality can help prevent preterm birth and increase early detection of health risks. With this change, and the continued advocacy and support of organizations such as March of Dimes, Doris Mollel Foundation, and Childbirth Survival International (CSI), advocating for higher quality maternal and obstetric care, the coming years are sure to see a decline in the number of premature births worldwide.
In 2015, CSI partnered with
Doris Mollel Foundation
and delivered socks and hats to keep premature babies at Muhimbili Hospital warm in addition to Kangaroo Mother Care. Doris Mollel Foundation delivered the remaining socks and hats in rural Tanzania. In Spring 2016, Mnazi Mmoja Hospital in Zanzibar requested basic needs assistance for
200 premature babies
and CSI answered the call - socks, hats, and diapers. CSI Friends in Tanzania and Zanzibar, you are invited to join Childbirth Survival International, Doris Mollel Foundation, and partners to walk for preemies on Saturday, November 19, 2016 at Mnazi Mmoja Grounds.
By Kimberly Sarvis, CSI Blog Writer